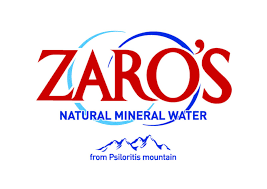 ZAROS SA was founded in 1980 and is one of the most famous companies in the field of bottled water. This is a Greek company started its production activity in the bottling of natural mineral water ZARO'S near Zaros village from where it got its name.
The company has produced and successfully marketed bottled natural mineral and carbonated mineral water ZARO'S, according to 41602/8.5.2008 governmental license and table water with several private label brands (private labels – jobbing).
All the production facilities of the company are located outside Zaros of Phaistos municipality in the prefecture of Heraklion in total plot 15850.8 m2. Therein lies the certified source Amati from which the bottled natural mineral water ZARO'S with modern machines, without any intervention by human hand throughout the process of drawing up the marketing of the product and without undergoing any treatment.